Energyear Spain 2023: Diverxia Infrastructure gives the keys to overcome new challenges in the field of renewables
Paola Cásseres, Managing Director of Diverxia Infrastructure, and Álex Romeu, Operations Director, will be in charge of providing the company's expertise at the international renewable energy meeting. 
Madrid will host a new edition of the Energyear tour on April 25th and 26th. An event in which Diverxia Infrastructure, as a leading company in the promotion of renewable projects, will take part again contributing with its experience in two of the scheduled panels.  
Thus, our Managing Director, Paola Cásseres, will participate in the panel "Local market. Renewables in Spain: where do we come from, where are we and where are we going? A space in which the challenges overcome in the renewables market and those to come will be discussed.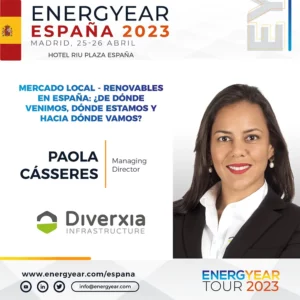 The Operations Director, Álex Romeu, will take part in the panel "Design and construction of solar projects: how to obtain profitability in the current scenario", in which he will outline the keys to the company's work in the field of renewable projects.  
Both presentations will take place on Tuesday, April 25, with the first at 9:20 am and the second at 3:45 pm.  
Attendees will be able to take advantage of our 25% discount code. To use it, just enter the code DIVERXIAEY at the time of purchasing the ticket.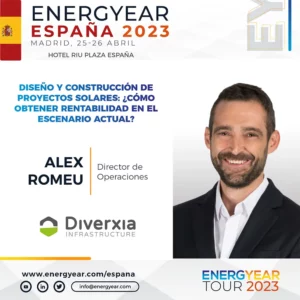 About Diverxia Infrastructure 
With almost 20 years of experience in the renewable energy sector, Diverxia Infrastructure works in the development, execution and operation of large renewable projects around the world. With headquarters in Spain and subsidiaries in the UK, USA, Puerto Rico, Mexico, Colombia, Brazil and Romania, Diverxia combines experience, commitment and sustained growth, generating great added value to the projects in which it takes part.  
This trajectory drives the recent creation of Diverxia H2, which was born with the vocation of leadership in the integral development and implementation of green hydrogen generation projects. Relying on the extensive experience of its parent company Diverxia Infrastructure, Diverxia H2 seeks to respond to the need to decarbonize our society.